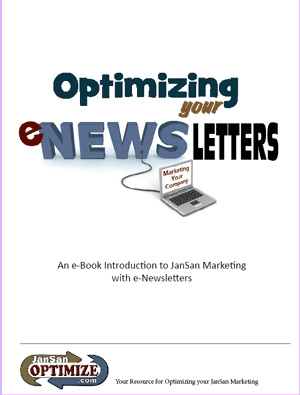 It is no small undertaking to launch a meaningful e-Newsletter marketing program. After all, there is content to create (and research), e-mail addresses to gather, and graphics to resource and format. It can take hours to create a single e-Newsletter.
Let us do it for you! Just $109 / month!
View examples of our Distributor e-Newsletters
Is it worth it? You bet. According to a study conducted by the Direct Marketing Assocation (DMA), it is the most valuable marketing tool you can use with a 4000% return on investment!
Let's look at some additional statistics:
E-Mail garners $41 in sales for each $1 spent compared to social media ROI of $12 for each $1

68% of small businesses prefer e-mail as the marketing channel of choice (survey by Pitney Bowes)

77% of consumers surveyed preferred to receive a permission-based promotion via e-mail
60% of business leaders planned to increase their email marketing budget in 2012


Some of the sales benefits of implementing an e-Newsletter program include:
It enables you to target various audiences with specific messages

It drives direct sales, as we can hyperlink directly to your online ordering

It nurtures relationships with current customers and prospects, converting leads into sales

It keeps you top-of-mind in a professional way

We have seen additional benefits as e-Newsletters provide you with insightful marketing feedback about what your customers are interested in and tend to capture their interest.
Many companies realize the value of e-Newsletter marketing, but lack the resources to implement a program. As your e-Newsletter resource, we we take care of everything from creation to launch.
Check out our e-Newsletter Monthly Program
Our Monthly e-Newsletter Service provides you with a turn-key marketing program.
COMPLETE E-NEWSLETTER SET-UP:
Account creation in your company name (so you can implement on your own if you choose)
Creation of an e-Newsletter template
Import of email addresses (that you provide)


MONTHLY ISSUES:
Creation of a monthly e-Newsletter
Hyperlinks to your website


SET-UP FEE: $125; Monthly fee: $109
Customized e-Newsletters Monthly Program
We create customized e-newsletters for you based on topics, local information, and products of your choice.
Monthly fee starts at: $300/issue.
E-Mail us today for details or call Ginny Petru at 630.922.1125!

---
Want to know more about how to implement your own e-Newsletter program?
Download our FREE e-Newsletter E-Guide.
This concise e-Guide is written for the janitorial and maintenance supply industry. It an indispensible tool for getting an impressive and productive e-Newsletter marketing program in place.

In this downloadable e-Guide, you'll discover the:
Marketing advantages of conducting an e-Newsletter program
Basic differences between online providers (such as Constant Contact and Vertical Response)
Ideas for growing your e-mail list
"How-to" of creating e-Newsletter content
Tips on integrating e-Newsletters into your marketing plan
Effectiveness of an e-Newsletter program.